Happy Mardi Gras!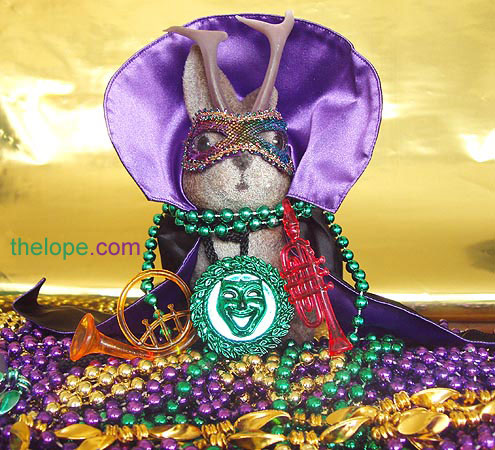 Ace Jackalope wishes you a happy and safe Mardi Gras.
We dug up some New Orleans cemetery photos from 2001, today. These are of the probable tomb of Marie Laveau in Saint Louis cemetery #1.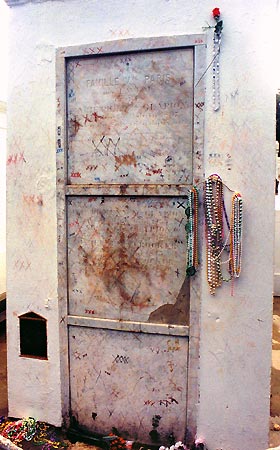 As you probably know, many early cemeteries in New Orleans were above ground; they had to be; coffins in conventional burials rose to the surface in the unstable soil. The lowest chamber in the tomb above is the "receiving vault". Its function was to hold the remains of people who had disintegrated after being interred in the top two chambers. In the hot, humid climate of New Orleans, this took less than a year.
Many details of her life are uncertain, but Marie Laveau is generally thought to have been born about 1794 of a white planter and a black woman in the French Quarter of New Orleans. She married a free black man who soon disappeared under mysterious circumstances. After that, she had a long-term lover until his death.
Her path to fame was her brand of voodoo, probably a mix of Roman Catholicism and African beliefs. She was also politically and socially quite savvy. As a hairdresser she networked quite well and was privy to many secrets.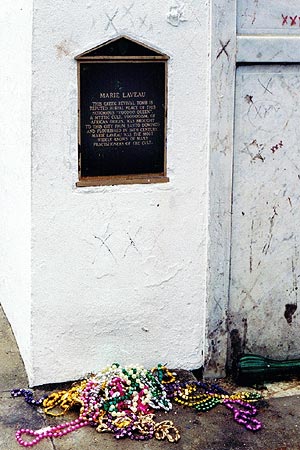 Marie Laveau was reported to have died in 1881, according to New Orleans newspapers.
Then, the story gets more interesting. She was reportedly seen by people after her death.
The probable explanation is that one of her daughters, a near look-alike, assumed her name and magical profession after her demise.
By most accounts, she is buried in this crypt in Saint Louis Cemetery #1 in New Orleans. Visitors wishing the favor of Marie Laveau draw three crosses, "XXX", on the crypt, a practice discouraged by cemetery officials and even modern practicioners of voodoo.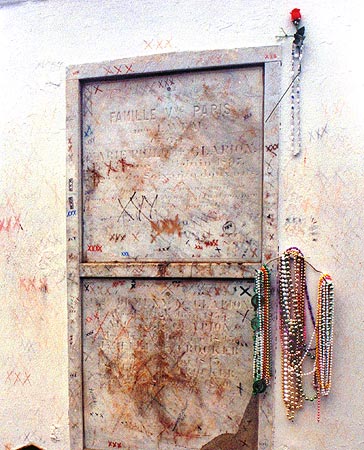 There is even a
website
with instructions on how to ask Laveau to grant a wish using a printout of a picture on the site.
A quite thorough and entertaining account of her life can be found
here
, along with tales of modern hauntings.
Oh, here are some doors. I know you didn't ask for any, but this picture was handy so I'm throwing it in. It was somewhere in the French Quarter but I didn't take notes on things back then like I do now for the Route 66 stuff.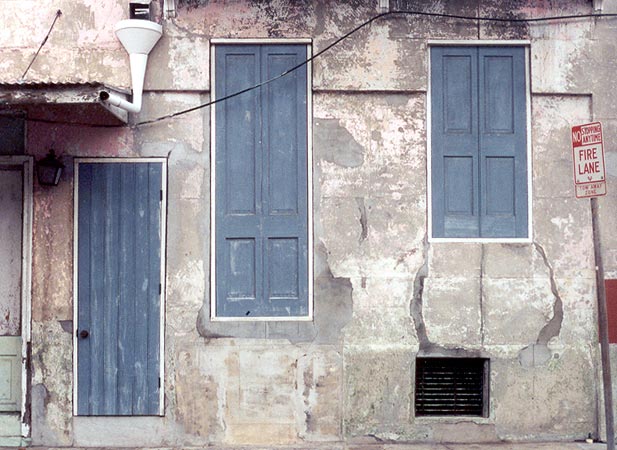 Happy Mardi Gras! I'd have furnished pics of Ace handing out beads to young ladies with predictable results, but...PG-rated site, ya know.