Risen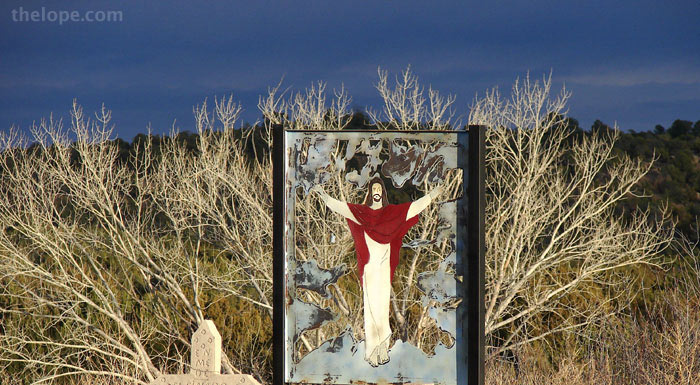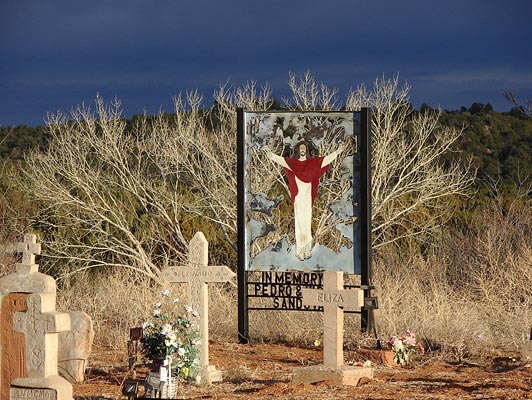 Yes, the sky is really that color. It often is in New Mexico, where rain seeks the ground but sometimes does not find it. This rain is called "virga" and backdroped our afternoon about three weeks ago at the cemetery of Capia de Santa Rita de Cascia (Santa Rita Chapel) at Bernal, NM on an old alignment of Route 66. The beautiful metal Jesus is a monument to Pedro and Virginia Sandoval.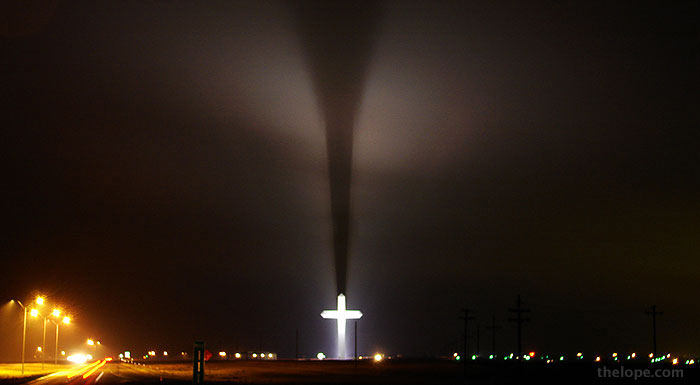 Floodlights send shadows of the cross into a rainy sky at the
Cross of our Lord Jesus Christ
near Groom, Texas, between Interstate 40 (left) and Route 66.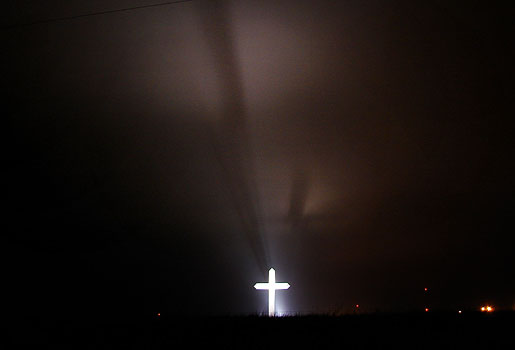 I had seen the same sort of effect when passing Groom in the fog some days earlier, but could not stop. So, this night, after leaving my travel companions in Amarillo, I drove 40 miles to Groom, hoping that rain would furnish the same effect.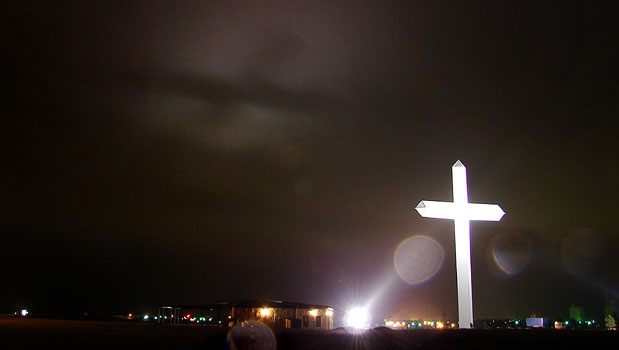 It did, although raindrops splashing onto the lens were a problem.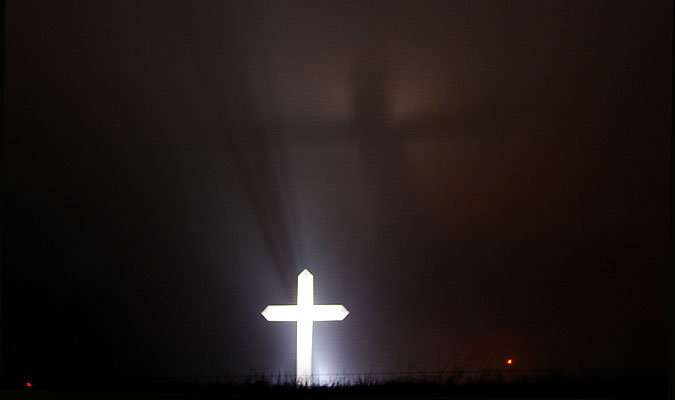 That's no small cross; it's 190 feet tall and was erected in 1995. As mentioned in a post a couple days back, which was dedicated to the
crucifix
, I'd been here before, most recently in
July of 2005
. I kept the tripod low and behind a swell in the ground to hide most of the ground clutter.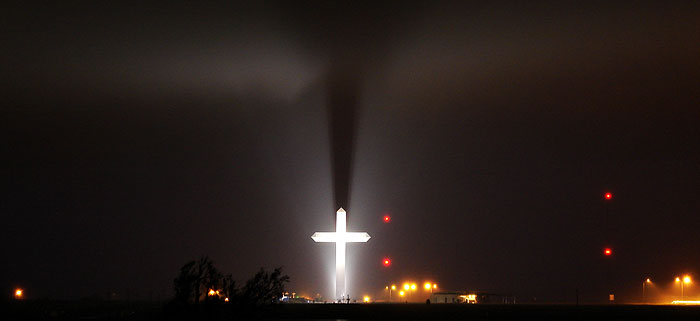 And here is the cross in its surroundings of TV or radio towers, etc.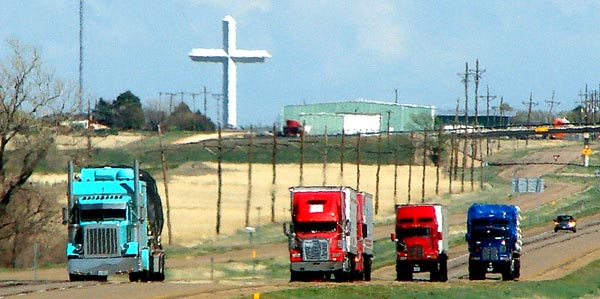 The next day, trucks pass the cross in the westbound lane of I-40.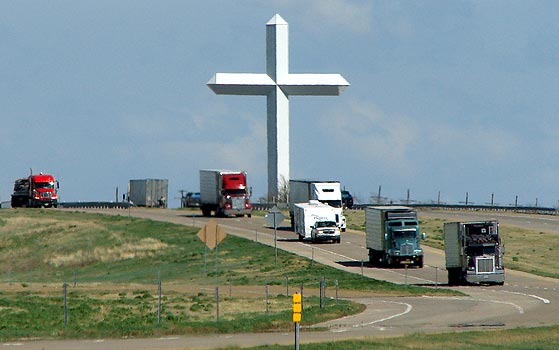 You'd think that 190 feet of stature would make this the biggest cross in the good ole US of A. But, no.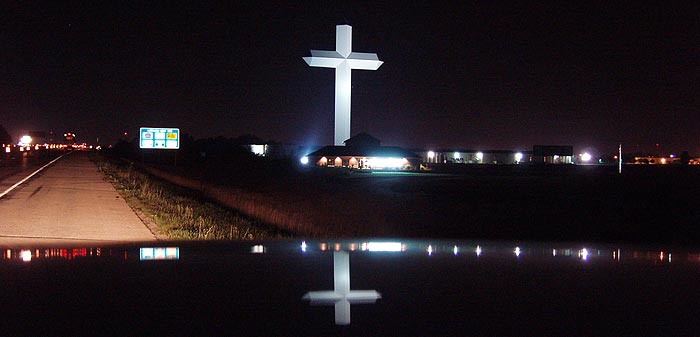 It turns out that things are not always bigger in Texas, this cross at Effingham, IL has eight feet on the one at Groom, at a total height of 198 feet. It was completed in 2001 by the
Cross Foundation
. We shot it in June of 2006, after coming upon it by surprise on a
road trip
.
I'm not sure why organizations build huge crosses, and I don't know if the Effingham one is a case of "my cross is bigger than your cross" or not. Maybe not...apparently the folks from Groom supplied the people in Effingham with their architectural plans. The Cross Foundation says that if it were two feet taller, it'd have fallen under FAA regulations and would have needed a red light at top.
With all due respect, I like the humble metal Jesus in an out-of-the-way cemetery in New Mexico better.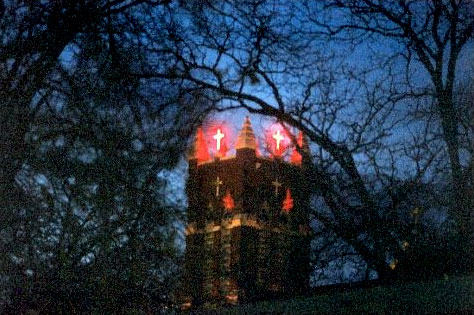 Lastly, I'm sure I have all sorts of cross pictures, but I only have one
neon
cross photo handy. I shot this back in 2003 or so in Denison, TX. I'm afraid I don't know the name of the church, but when I saw it, I couldn't help but think of the scene in Monty Python and the Holy Grail in which a knight sees a similar structure with a grail-shaped beacon. I don't know why.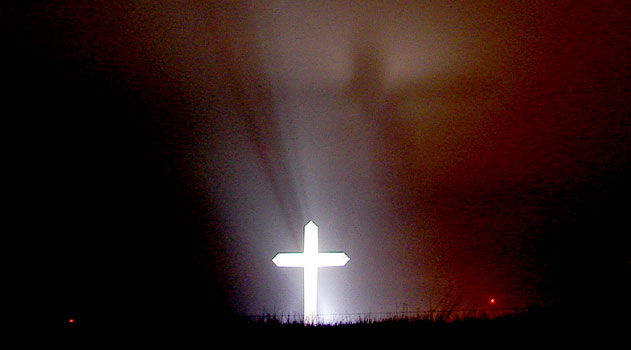 By the way, if you think the cross shadow in the clouds looks like the Bat-signal for Jesus, you might be right: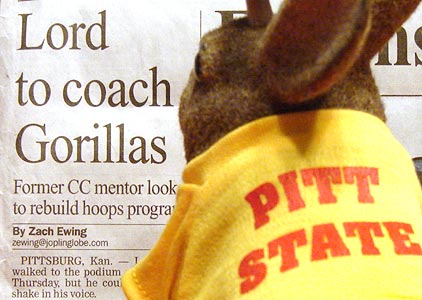 Apparently, he has returned and is coaching the Pittsburg (KS) State Gorillas; at least that's what this Joplin Globe headline from Good Friday suggests. Of course, they're referring to a local coach, but I just couldn't resist posting it.
Have a Happy Easter, everyone!