Where Angels Breathe
"
The air up there in the clouds is very pure and fine, bracing and delicious. And why shouldn't it be? It is the same the angels breathe
."
Mark Twain, "Roughing It" Chapter XXII, 1886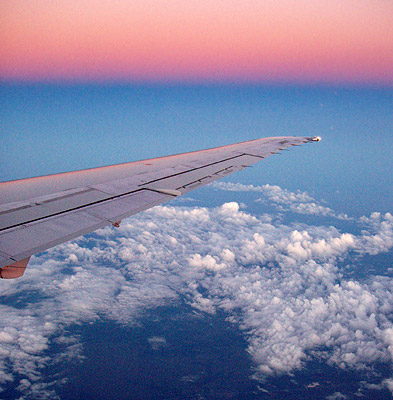 Ace Jackalope, a friend and I recently flew to Seattle from Kansas City, via Dallas. Smart people sleep on planes; I take pictures instead. I hope you enjoy some of them. This is the pre-dawn sky, somewhere over Kansas.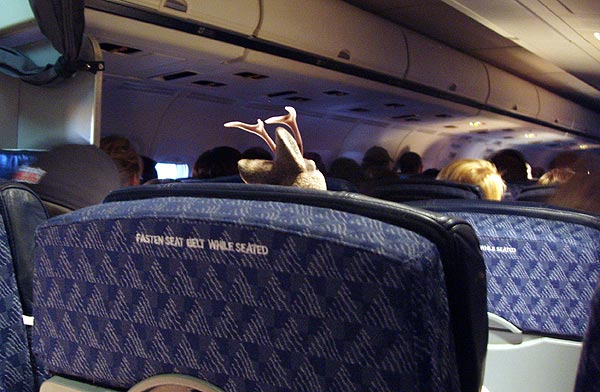 Ace awaits food service on this first leg, from Kansas City to Dallas.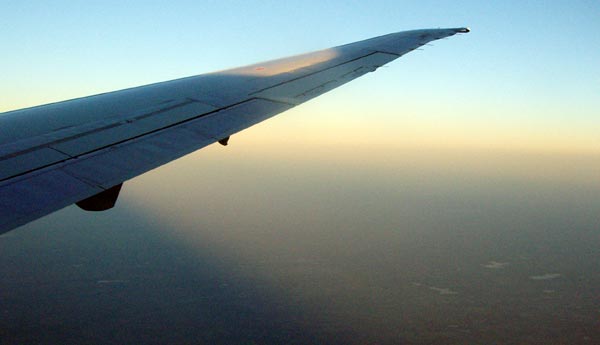 Sunrise (over Oklahoma, I am guessing)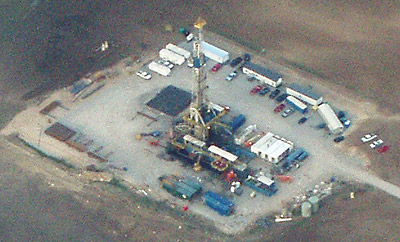 How much more of a stereotypical view can one have as one descends into Dallas?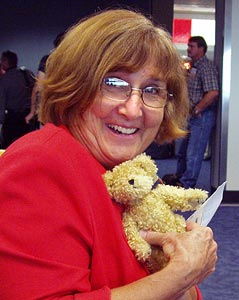 I found a couple outfits for Ace for future trips to Texas in one of the Dallas/Fort Worth airport gift shops. It is my custom to give away whatever was wearing them on site, if possible. I have thus left a trail of naked bears over much of the US. This new grandmother was happy to receive one as she was going to see a new grandkid for the first time.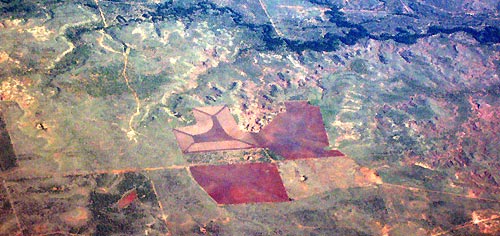 This was shortly after leaving Dallas for Seattle. It reminded me of an elk, but I suppose that's just interpretation.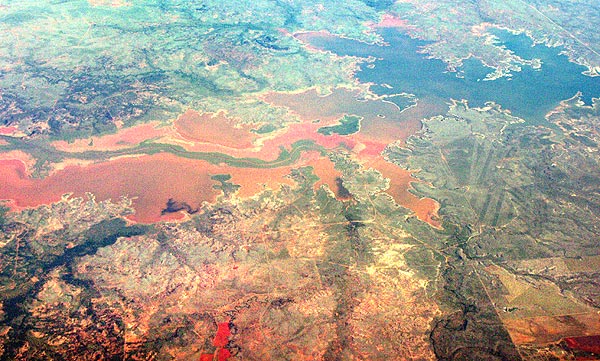 NW of Dallas: I'm afraid I have only the most general idea of where most of the following shots were taken, although they are presented in chronological order.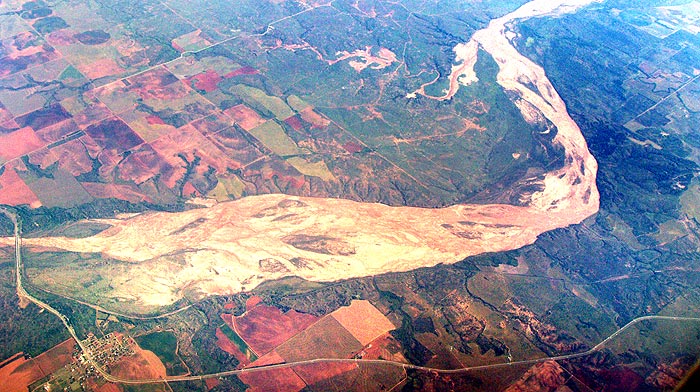 NW of Dallas
NW of Dallas and SE of Amarillo. The circles are the result of fields watered by revolving irrigation rigs.
All of the raw images were pretty low in contrast, a condition mostly caused by grime on the windows, glare, etc. Here is the scene above, unaltered. I heightened the contrast on all of these frames, for obvious reasons.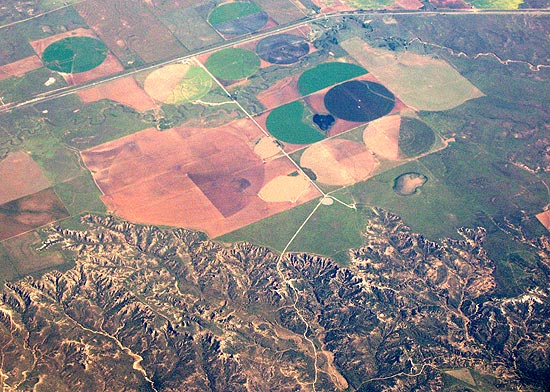 Erosion from streams has been eating into this plane for quit some time.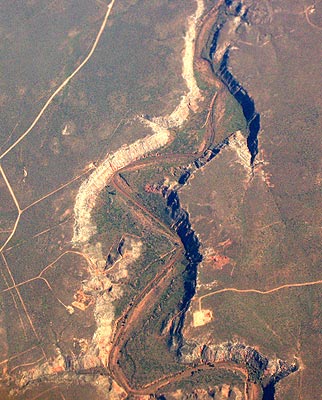 I think this might be Palo Duro Canyon near Amarillo, TX.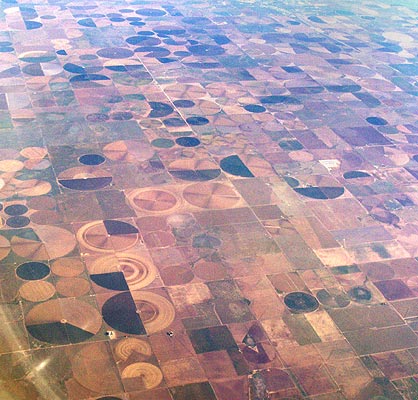 Someday, if the person next to me is really dumb, really annoying and inexperienced at seeing the earth from the sky, I'm going to act panicked and tell them these circles are the result of an alien invasion happening right then. The aliens, I will explain, are leaving "how to cook humans" instructions via their crop circle language.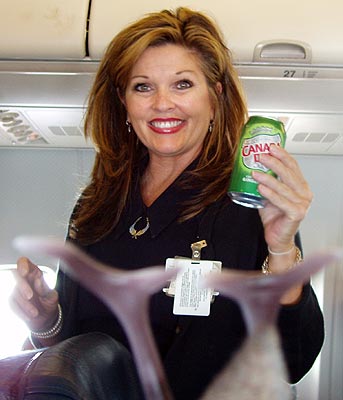 Our pretty flight attenant brings Ace a Canada Dry. He thought it appropriate for his general destination.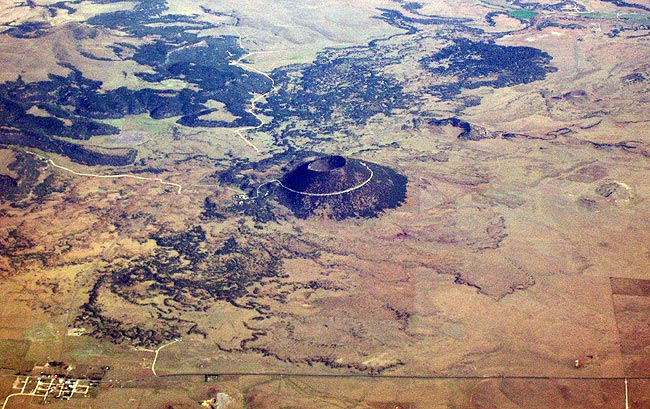 Ah hah! Finally, something I could identify! This is
Capulin Volcano National Monument
in the NE corner of New Mexico.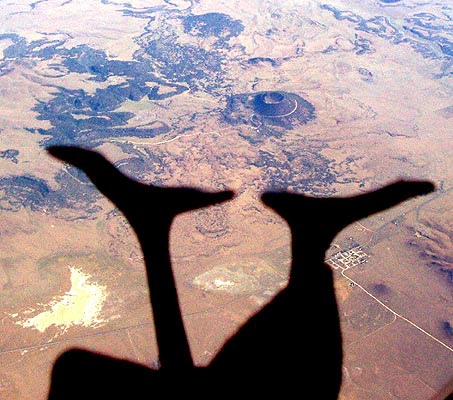 This isn't the first time we've encountered evidence of volcanoes in the Southwest. Ace remembers
the Malpais
along Route 66 in New Mexico as well as
Amboy Crater
along 66 in California.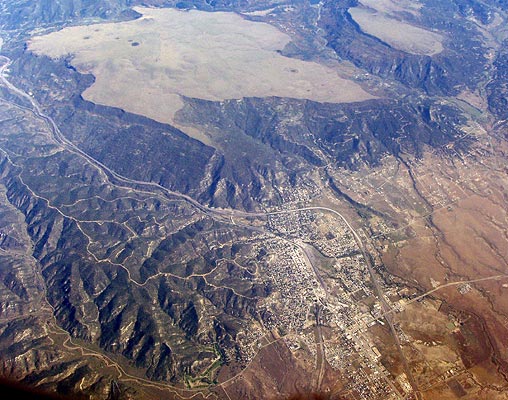 A town at the base of a huge plateau.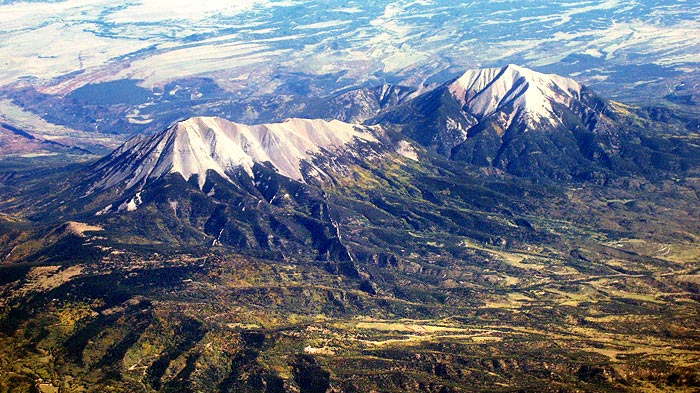 The beginning of many satisfying views of what I assume to be the Rocky Mountains.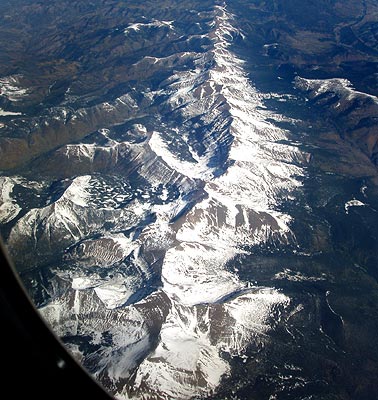 Isn't it neat what tectonic plates can do when they crash into each other?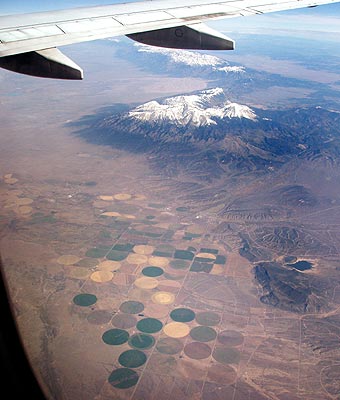 Crop circles dot the field at the base of a mountain.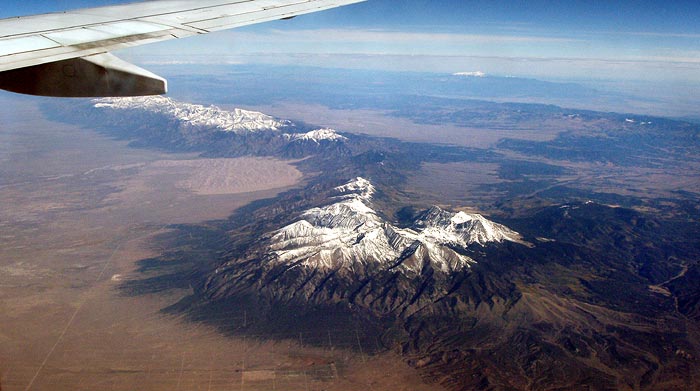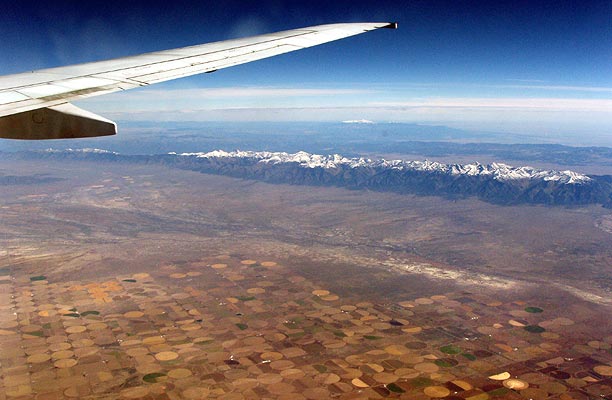 The mountains gave way to more of a badlands appearance.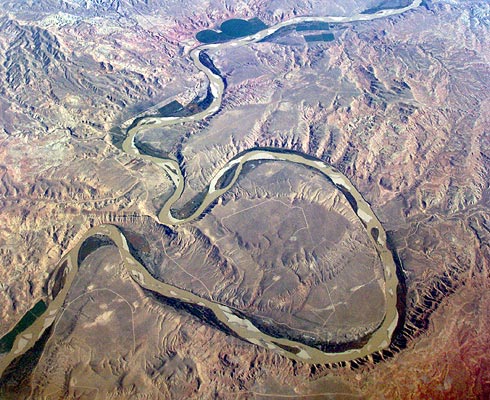 A nice river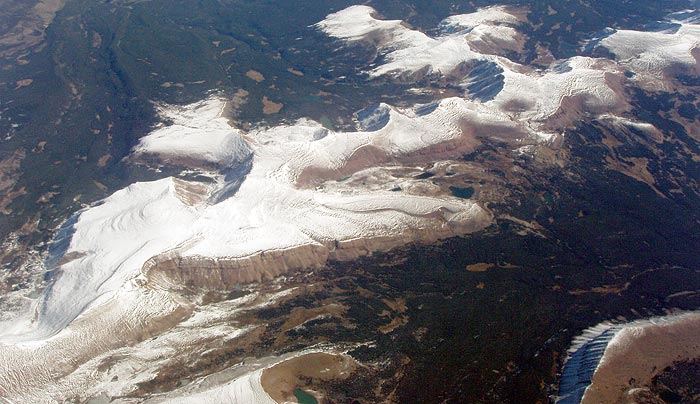 I'm wondering if this can be a glacier.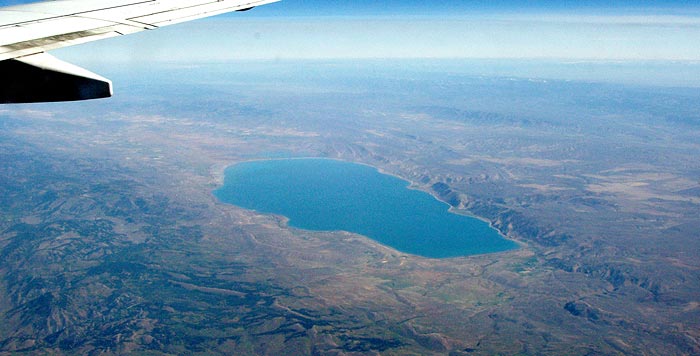 This was near Salt Lake City.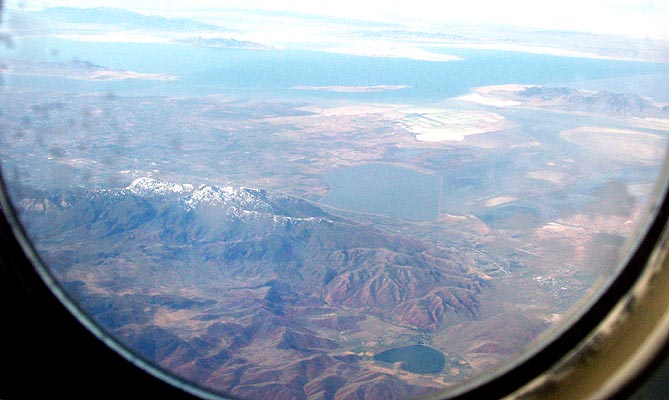 The pilot had just announced that, on the left, we were passing the Great Salt Lake. I was seated on the right, so I asked a flight attendant if I could shoot from the galley window, and she let me.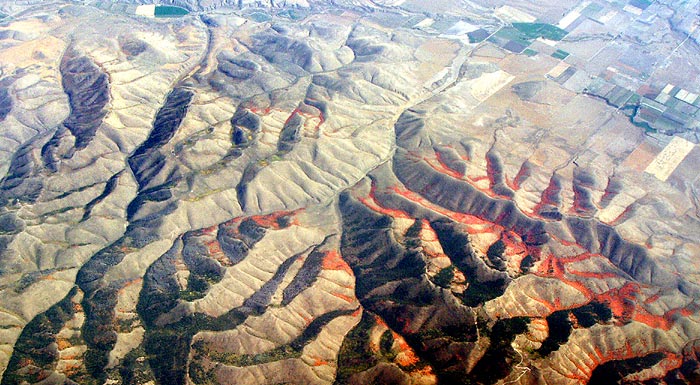 This one and the one below remind me of mat paintings for a movie. I can only speculate as to what the orange stuff is....rock, vegetation?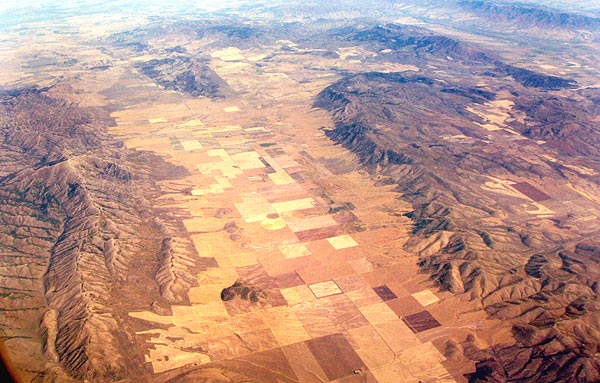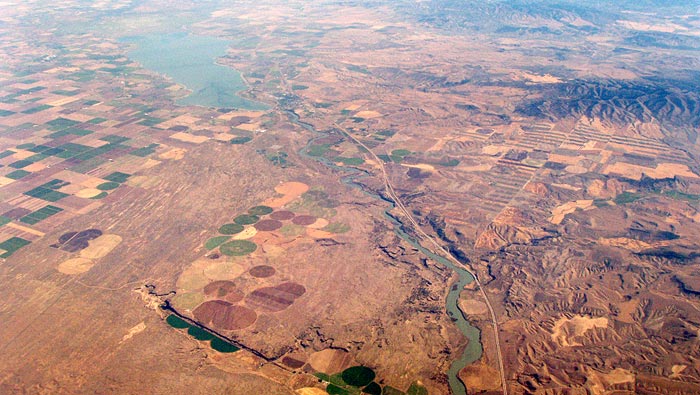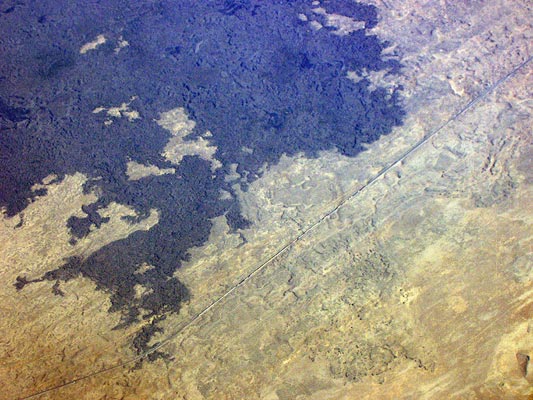 That little narrow line is a railroad track with a train on it.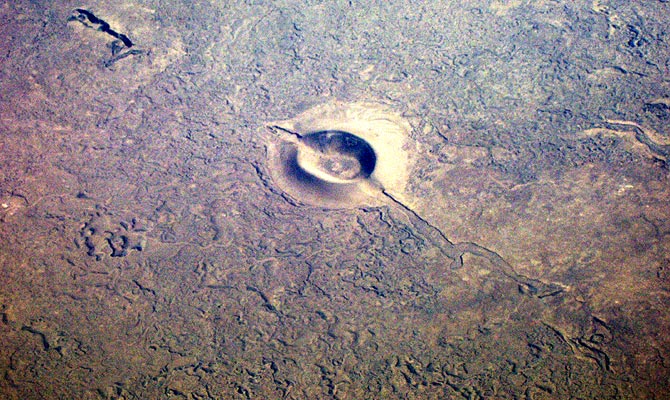 Now, here's a groovy mystery. What is this? Impact crater...dead volcano...nuclear test site? You tell me. It looks like the surface of the moon.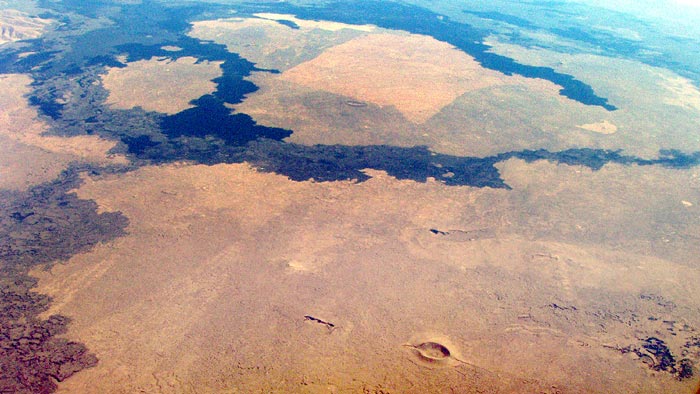 Here is the mystery site in context with it's surroundings.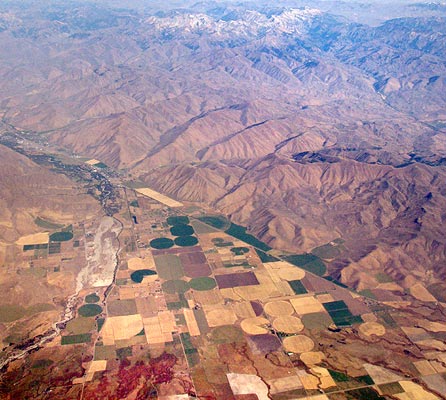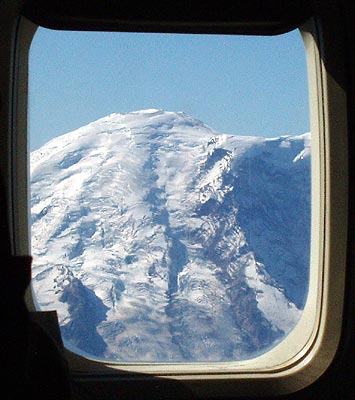 Mount Rainier was visible on the left side of the plane, and again, I was on the right. The "fasten seat belt" sign was already lit for descent, so this is the best I could do. Obviously, we're in Washington by now.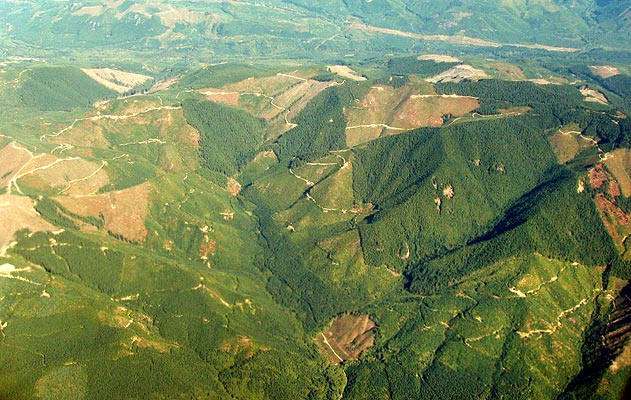 I think the unnatural geometry displayed here may be the result of boundary lines for timber harvest.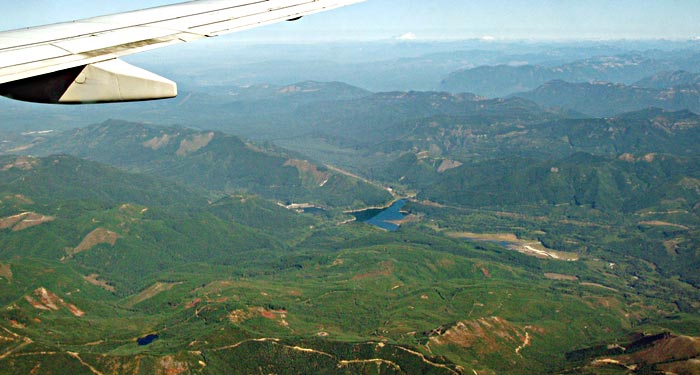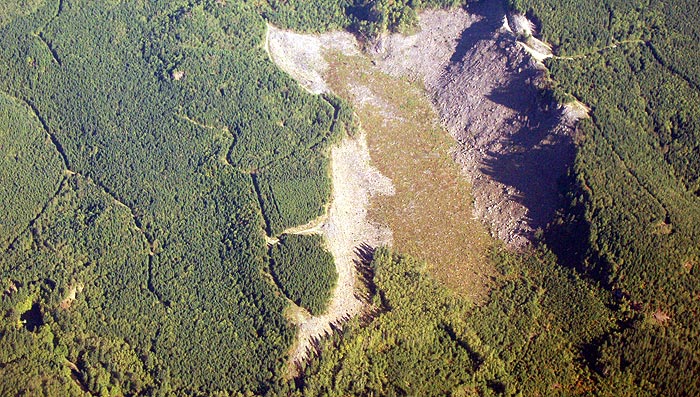 "
You haven't seen a tree until you've seen its shadow from the sky
." - Amelia Earhart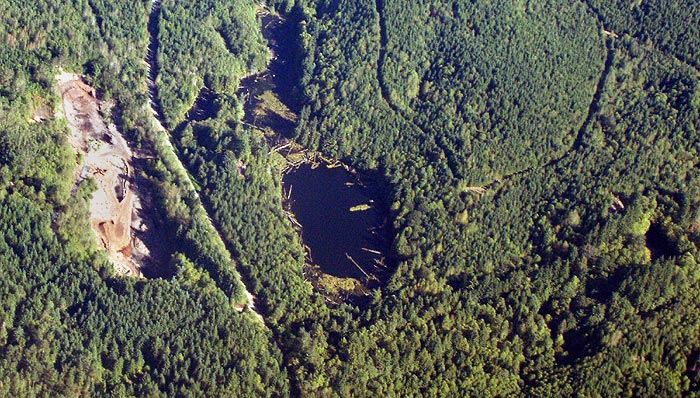 You can see stray logs that have most likely escaped a raft of timber.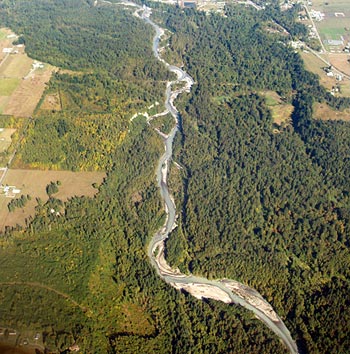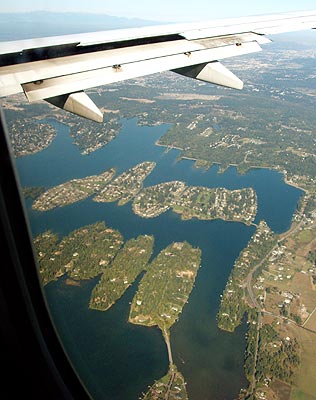 We're in the Seattle area, about ready to set down. I'll have more from Seattle, Portland, etc., when I can get to it. Of late, life has been too busy being lived to be blogged, not that I'm complaining, mind you.

Part of Ace's Northwest Passage series
Ace's Northwest Passage (Oregon, Washington, Canada) posts (so far):
Everybody Loves the Monkey
Neon monkey rules!
Northwest Tiki
- Tiki bars times three...and tiki art, too!
Where is Ace Jackalope? (episode 11)
- Big brown jug with interesting contents
Where is Ace Jackalope? (episode 10)
- Royal Mounted Canadian Jackalope
Where is Ace Jackalope? (episode 7)
- I saw a pink elephant at a car wash
Where is Ace Jackalope? (episode 6)
- Always talk to a giant bunny.
Where Angels Breathe
- Looking down from on high.