Melodies for Munificence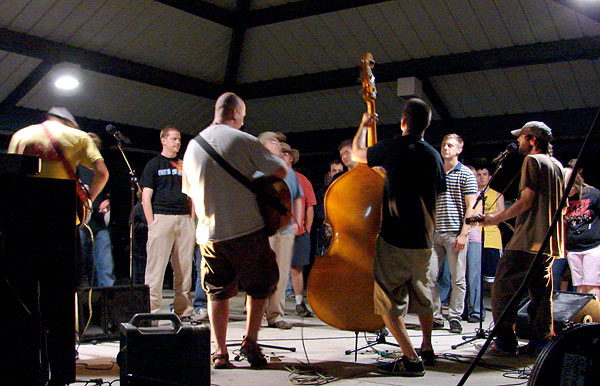 We've got this cool little annual concert here in Hutchinson, Kansas - a concert and an art auction, actually - in our Avenue A Park. Local art and books of poetry are sold, donations are taken and the money - all of it - goes to a local cause. This year, the beneficiary is the Central Kansas Tenants' Association.
Melodies for Munificence
is the name of the show, and last night it featured about nine artists and 12 musical acts. Above, members of headliner group Deadman Flats perform.
And did I mention the concert is free? You can't beat that with a stick (odd expression, that).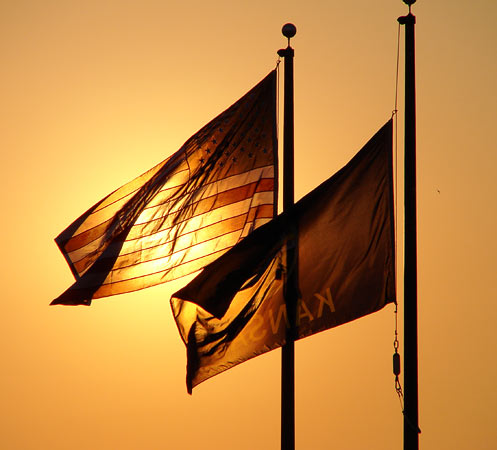 A nearly-setting sun was eclipsed by flags over Avenue A Park as the evening concert was underway.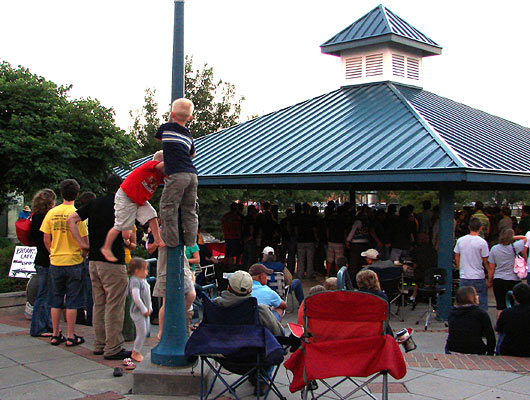 I'm pretty sure that climbing up a light pole was not a good idea for these kids. Somewhere an insurance agent got an unexplained chill, but the muses of childhood rejoiced.
The area of South Main between Avenues "A" and "B" has taken on a village feel these last few years. Patrons relax outside Brooks coffee shop. Hutchinson has
no shortage of coffee shops
.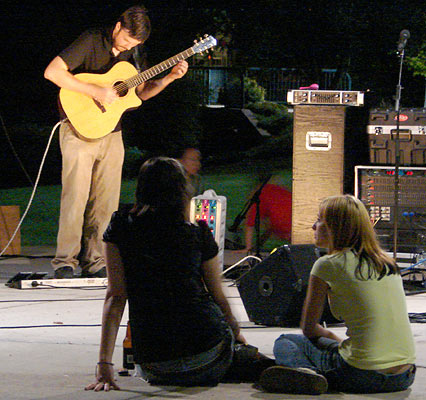 The guitar stylings of event organizer Jon Dennis were a sort of encore performance for Hutchinson, as he is moving almost immediately to Las Vegas, NV, to work for a nuclear disarmament organization.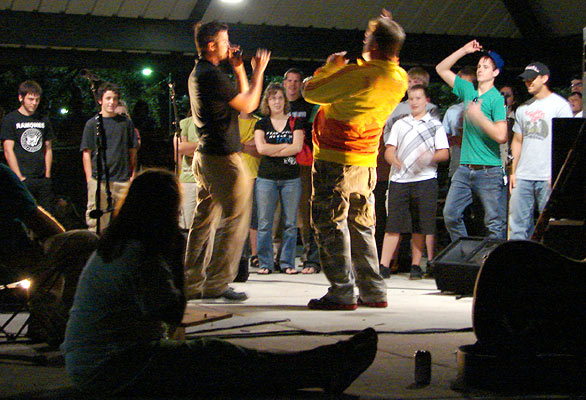 Dennis was joined by another performer for some beat boxing. For people like me whose musical tastes are stuck in Stodgyville, beat boxing is a sort of mouth percussion frequently used in hip-hop. I like the way the green-shirted guy in the audience is getting into it.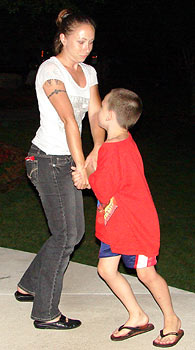 I admire this kid. At that age, I couldn't dance. Come to think of it, I still can't.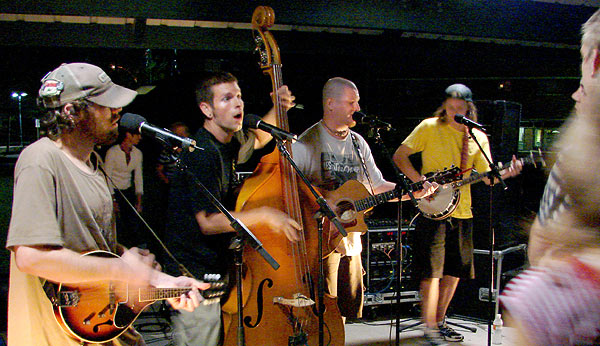 If I interpret their
MySpace page
correctly, the members of Deadman Flats are (L-R): Matt Stambaugh on mandolin and vocals, Hank Osterhout on bass guitar and vocals, Alex Law on guitar and vocals and Mike Helvy on banjo and vocals. They describe their music as "Bluegrass at its most inbred."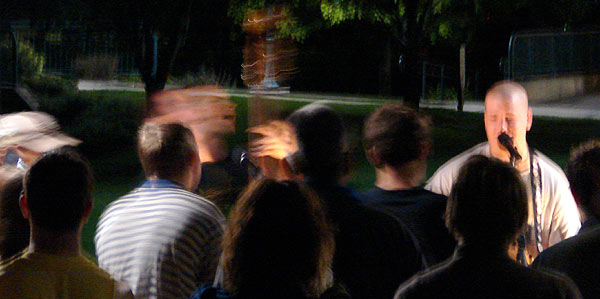 If circumstance forces a low shutter speed, you might as well have fun with it. tried to get a blur that showed the frenetic motions of Osterhout (1/3 from left). This comes close.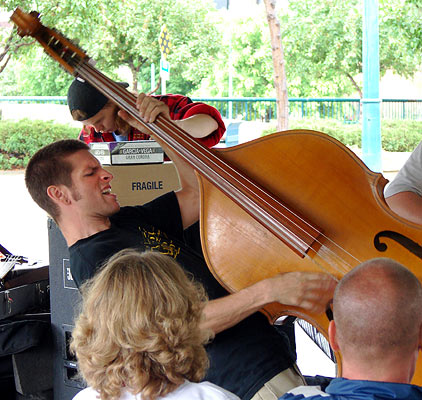 Here's a photo of Osterhout from a performance earlier in the day. More pics
here
and
here
.